Our Valued Local Sponsors
Please support our Sponsors
Our sponsors make important contributions to our community, as well as well as supporting our fund-raising raffle.  Many of them are having a difficult time coping with the effects of the government restrictions on social interaction, resulting from the impact of Covid 19.
The attached table below shows how they are faring.  We encourage everyone to use their services or buy their products whenever you can, so that when the restrictions are lifted they will be able to continue to operate successfully.
Our 2021 Sponsors
We would like to thank our local sponsors for their generous support.  They all contribute to our local amenities and we encourage our members to use their facilities.  As you can see they offer a wide range of products and services to meet a variety of needs.
Antica Ricetta: An authentic and traditional Italian eatery; our pasta, made in-house; dine in or take away; Shop 14, Palmerston Lane, Manuka; tel: 61900914; https://www.anticaricetta.com.au/contact
Aubergine: A local favourite in Canberra, at 18 Barker Street, well known for its consistently high levels of food and service; tel: 62608666;  http://www.aubergine.com.au
Bambusa Restaurant: Acclaimed pan-Asian cuisine to eat in or take away in a warmly lit restaurant with smart, modern decor, at 38 Franklin Street, Manuka; tel: 6295 1036; http://www.bambusa-ac.com
Body Temple: For massage, beauty, manicures, pedicures, waxing and tinting; uses only natural organic products, at 6/16 Barker Street, tel: 0411 543 107; https://suezgeelan.wixsite.com/bodytemple
Caphs Cafe Bar & Restaurant Manuka: Has a wide selection of modern Australian cuisine to suit the whole family; tel: 6295 9783; www.caphscanberra.com 
East Hotel & Apartments: 69 Canberra Avenue, Griffith. Studios, apartments and meeting facilities combined with a great location and excellent service; tel: 6295 6925; www.easthotel.com.au.
Essence Salon & Spa: Treats problem skin through proven and advanced skin care therapies, at Barker Street, tel: 6295 0276;  http://www.essencebeauty.com.au
Fox Antiques, 51 Collie Street, Fyshwick.  The best range of French antique furniture and Australian original landscape art; tel: 0409 111 723; charliealliott@outlook.com
Griffith Butcher & Bakery: Free range pasture fed specialist butcher without herbicides, pesticides or hormones; tel: 6295 9781; https://griffithbutchery.com.au
Griffith Vietnamese Restaurant: Spring rolls and braised beef in a pared-down joint with written testimonials covering the walls; 6B Barker Street; tel: 6295 6205; https://m.facebook.com/gvrcanberra/
Grill'd, Manuka: Pop in if you feel like a burger done good or order online, 1/40-42 Franklin Street, Tel: 62396111; https://www.grilld.com.au/restaurants/australian-capital-territory/canberra/manuka
Gryphons: A chic venue with a relaxed atmosphere, at 16 Barker Street, offering a quality dining for breakfast, lunch and dinner – or just a snack at any time; tel: 0419 618 679; http://gryphons.com.au
Jewel of India: Classic Indian Cuisine in traditional Indian setting or excellent takeaway; 1st Floor, Manuka Court, 11 Bougainville St, Manuka, tel: 6295 6277; https://jewelofindia.com.au/
Macka's Griffith Newsagency: Provides Stationery & Office Supplies, Newsagency and NSW Lotteries services, 4 Barker Street, tel: 6295 8332; http://www.mackasnews.com.au
Manuka Veterinary Hospital: Provides a very high standard of medical and surgical care as well as taking excellent care of our customers; 85 Flinders Way; tel: 6295 6089; https://www.manukavet.com.au/
Mountain Creek Wholefoods: For all your culinary herbs and spices, dairy, eco clothing, essential oils and other delights, 14 Barker Street, tel; 6295 1474, https://mountaincreekwholefoods.com.au
Organic Energy: Offers the best organic fruit and vegetables, as well as house-made organic raw food products, 8A Barker Street, tel:  02 6295 6700, http://www.organicenergycanberra.com.au
Pro Thais Massage: For relaxing and healing Thai style massages to suit your needs, 10A Barker Street; tel: 61564755, www.thaimassagecanberra.com.au
Rubicon: One of Canberra's most exquisite dining experiences, renowned for its award winning Australian Cuisine. 6A Barker Street; tel: 02 6295 9919 http://www.rubiconrestaurant.com.au
Shop-Rite: Provides all your grocery and liquor needs, at 2 Barker Street; tel: 6295 0781; https://grocerandco.business.site
Studio Skye Hairdressing & Make Up: Studio Skye Hairdressing & Make Up – Shop 1/ 12 Barker Street; tel: 0415 880 149
Sweet Little Cafe: Come and enjoy the coffee and food, with a range of gluten-free options and fresh smoothies, at 12 Barker Street, Griffith, tel: 6239 7554
The Hierophant: The place for natural medicines, homeopathic remedies, herbal extracts, herbal teas, flower essences and essential oils, 6 Barker Street, tel: 6295 6939, www.thehierophant.com.au
Your Discount Chemist, Griffith: At 12 Barker Street, over 11,000 products online at www.yourdiscountchemist.com.au; tel: 6295 6725.
ANNUAL RAFFLE
Every year from February to April, we hold a raffle to raise the funds required to operate the GNCA, so we can interact with local residents to discuss issues of concern, raise the profile of the GNCA and lobby the Government.
The theme for 2020 was Eat, Drink and be Healthy in Griffith.  We received outstanding support from local businesses and there were 26 prizes to be won.  Some of the funds raised will be allocated to maintain our local parklands.
It is with great enthusiasm that we announce the winners of the 2020 GNCA raffle.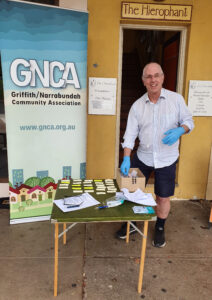 Tim Thomas from the Hierophant, with COVID19 separation and gloves, draws the winners.
GNCA wishes to encourage our members and advocates to support our colleagues, particularly during these difficult times.
| | |
| --- | --- |
| Aerie Village 1 | Jill Allen |
| | |
| --- | --- |
| Aerie Village 2 | Gary Stevens |
| | |
| --- | --- |
| Bambusa Restaurant | Theresa Perry |
| | |
| --- | --- |
| Body Temple | Peta Tannahill |
| | |
| --- | --- |
| Caphs Manuka | Iain Macinnis |
| Escala Shoes Manuka | Caroline Atkins |
| Essence Salon & Spa | Colin Walters |
| Fox Antiques | Rietcke Chenoweth |
| Gryphons 1 | John Worcester |
| Gryphons 2 | Libby McCutchan |
| InSync Institute | Kate Goodyear |
| Mackas Newsagency | Caroline Atkins |
| Mountain Creek 1 | Jackie Bennett |
| Mountain Creek 2 | Clark Gallagher |
| Organic Energy | Jenny Morison |
| Pro Thai Massage | Gabrielle Tryon |
| Rubicon | Alaine King |
| Shop-Rite | Susan Gardiner |
| Soi Soi- 8 Thai Griffith | Sheilla Kellock |
| Studio Sky | Stan Piperoglou |
| Sweet Little Café | Joanna Hewitt |
| The Hierophant 1 | Tony Webster |
| The Hierophant 2 | Michael Cullen |
| The Hierophant 3 | Cath Barlow |
| Your Discount Chemist | Judy Lees |
| | |