Our Valued Local Sponsors
We would like to thank our local sponsors for their generous support.  They all contribute to our local amenities and we encourage our members to use their facilities.  As you can see they offer a wide range of products and services to meet a variety of needs.
Aubergine: A local favourite in Canberra, at 18 Barker St., well known for its consistently high levels of food and service; tel: 6260 8666; http://www.aubergine.com.au
Body Temple: For massage, beauty, manicures, pedicures, waxing and tinting; uses only natural organic products, at 6/16 Barker Street, tel: 0411 543 107; https://suezgeelan.wixsite.com/bodytemple;
East Hotel & Apartments: 69 Canberra Avenue, Griffith. Studios, apartments and meeting facilities combined with a great location and excellent service; tel: 6295 6925; www.easthotel.com.au.
Essence Salon & Spa: Treats problem skin through proven and advanced skin care therapies, at Barker Street, tel: 6295 0276;  http://www.essencebeauty.com.au
Fox Antiques, 51 Collie Street, Fyshwick.  The best range of French antique furniture and Australian original landscape art; tel: 0409 111 723; charliealliott@outlook.com
Gryphons: A chic venue with a relaxed atmosphere, at 16 Barker St, offering a quality dining for breakfast, lunch and dinner – or just a snack at any time; tel: 0419 618 679, http://gryphons.com.au
InSync Institute: Offers a complete approach to the development of your body and mind to live a happy, fulfilling and uplifting life, 2A Barker Street, tel: 6260 6666 http://www.insync.com.au
Loop Hairdressing: Ladies & Gents Cuts, Colours & Perms. Colour Specialists at 12 Barker Street; tel: 6295-9939; https://www.facebook.com/pages/Loop-Hairdressing/482943455249560
Organic Energy: Offers the best organic fruit and vegetables, as well as house-made organic raw food products, 8A Barker Street, tel:  02 6295 6700, http://www.organicenergycanberra.com.au
Rubicon: One of Canberra's most exquisite dining experiences, renowned for its award winning Australian Cuisine. 6a Barker Street; tel: 02 6295 9919 http://www.rubiconrestaurant.com.au
Soi VIII Thai on Griffith: 1/8 Barker Street; tel: 6239 7999
Mountain Creek Wholefoods: For all your culinary herbs and spices, dairy, eco clothing, essential oils and other delights, 14 Barker Street, tel; 6295 1474, https://mountaincreekwholefoods.com.au
Macka's Griffith Newsagency: Provides Stationery & Office Supplies, Newsagency and NSW Lotteries services, 4 Barker Street, tel: 6295 8332; http://www.mackasnews.com.au
Pro Thais Massage: For relaxing and healing Thai style massages to suite your needs, 10A Barker Street; tel: 61564755, www.thaimassagecanberra.com.au
The Hierophant: The place for natural medicines, homeopathic remedies, herbal extracts, herbal teas, flower essences and essential oils, 6 Barker Street, tel: 6295 6939, www.thehierophant.com.au
Polit Bar: Award winning party & entertainment venue at 8 Franklin Street, Manuka, delicious drinks, authentic Italian pizzas, and much more, tel: 0410 931 008; www.politbar.co
Shop-Rite: Provides all your grocery and liquor needs, at 2 Barker Street; tel: 6295 0781.
Your Discount Chemist, Griffith: At 12 Barker Street, over 11,000 products online at www.yourdiscountchemist.com.au; tel: 6295 6725.
ANNUAL RAFFLE
Every year from February to April, we hold a raffle to raise the funds required to operate the GNCA, so we can interact with local residents to discuss issues of concern, raise the profile of the GNCA and lobby the Government.
The theme for 2019 was Eat, Drink and be Healthy in Griffith.  We received outstanding support from Griffith businesses and there were 21 prizes to be won.  Some of the funds raised will be allocated to maintain our local parklands.  The prizes were drawn at the Griffith Shops on 20 April (see below).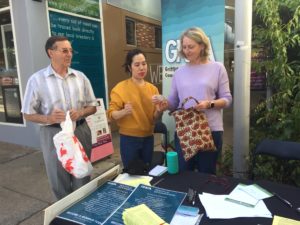 From left to right, GNCA President Leo Dobes, Tina Srikhumwong owner of Pro Thais and Vice- President Venessa Tripp at the drawing of the prizes.
It is with great enthusiasm that we announce the winners of the 2019 GNCA raffle.  Our annual raffle would not have been possible without the participation of our generous sponsors from our local Griffith shops.  GNCA wishes to encourage our members and advocates to support our Barker Street colleagues.
| | |
| --- | --- |
| DONORS | PRIZE WINNERS |
| Aubergine | Cathi Moore |
| Bambusa Restaurant | Jude Berger |
| Body Temple | Richard Glenn |
| Essence Salon & Spa | Cindy Cantamessa |
| Fox Antiques | Anna Ryan |
| Gryphons 1 | Stella Ashton |
| Gryphons 2 | Maureen Ryman |
| InSync Institute | Stella Ashton |
| Mackas Newsagency | Tony Webster |
| Mountain Creek | Gary Kent |
| Organic Energy | Elke McKenzie |
| Polit Bar 1 | Doris Kordes |
| Polit Bar 2 | Lyn Philipson |
| Pro Thais Massage | Kelsey Lorraway |
| Rubicon | Moira Smythe |
| Shop-Rite | Isabel Firkins-Fox |
| Sweet Little Café: | Patricia Denham |
| The Hierophant 1 | Simon Ottaviano |
| The Hierophant 2 | Leo Dobes |
| The Hierophant 3 | Paul Gibbon |
| Your Discount Chemist | Robyne Parolin |