Welcome to the GNCA
Welcome! The Griffith/Narrabundah Community Association is a not for profit, voluntary community based organisation operating in the Griffith Narrabundah area.   The objects and purposes of the Association are "to protect the amenity and interests of the Griffith and Narrabundah communities, particularly in relation to the preservation of community facilities and open space".
To view our goals for 2019, click here.
LATEST NEWS
ISCCC PUBLIC FORUM 11 JUNE:WHAT'S THE LATEST ON PLANNING FOR AREAS OF INTENSE URBAN INFILL?
Join us to find out the latest developments in ACT Government planning for urban renewal and intense urban infill.
When: 7-9pm, Tuesday 11 June 2019
Where: Yarralumla Primary School Hall, 24 Loftus Street, Yarralumla
See this Canberra Times article for background:
https://www.canberratimes.com.au/story/6180445/the-areas-in-canberra-flagged-for-intense-urban-infill/
Speakers:
1. Rachel Stephen-Smith, ACT Minister for Urban Renewal
2. Kathy Cusack, Executive Director, Planning, Land and Building Policy; Environment, Planning and Sustainable Development Directorate:
3. Jim Corrigan, Deputy Director-General, City Services, Transport and City Services Directorate
EASTLAKER NEWSLETTER
To access the latest issue click here.  On page 2 there is an article by Barbara Moore about the CRS and Hi Quality Group's proposals for waste management facilities in Fyshwick and on page 3 an article by Richard Johnston on the ACT's Government's decision in relation to the London plane tree.
MANUKA PLANE TREE
The London plane tree at the centre of a long running dispute over the re-development of the Capitol Theatre (to be replaced by a hotel) will stay on the Register after a decision by the Conservator for Flora and Fauna, Ian Walker.  Click here to view a  copy of the decision.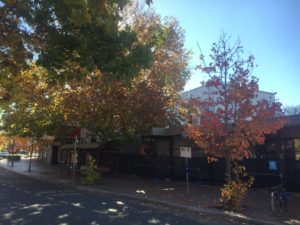 ANNUAL RAFFLE
The theme for  our 2019 Raffle was Eat, Drink and be Healthy in Griffith.  As in previous years, we received outstanding support from Griffith businesses and there were 21 prizes to be won.  Some of the funds raised will be allocated to maintain our local parklands.  The prizes were drawn at the Griffith Shops on 20 April (see below). Details of the prizewinners can be found on the Sponsors page.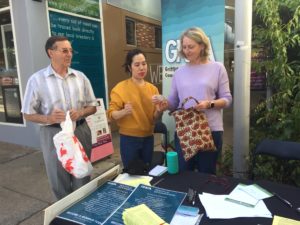 ACT ASSEMBLY INQUIRY INTO COMMERCIAL RATES

Local business and commercial property owners will be keenly interested in the outcome of this inquiry.  The report of the inquiry and the submission made by the Manuka Business Association can be found at https://www.parliament.act.gov.au/in-committees/standing-committees-current-assembly/standing-committee-on-public-accounts/inquiry-into-commercial-rate-in-canberra  
The Manuka Business Association has argued that the high level of commercial rates is a major factor behind the empty retail premises around Manuka.
AGE FRIENDLY PATHWAY UPGRADES
Northrop Engineers is working with the ACT Government in providing footpath and footpath related infrastructure upgrades as part of the age friendly suburbs initiative. As part of these works they are looking at obtaining feedback from the community within this year's proposed area of works, including Narrabundah.
If you wish to provide feedback on the project or thoughts on pathways within the suburb, please visit https://www.yoursay.act.gov.au/AFSP  
EASTLAKER NEWSLETTER 
The Eastlaker is a free bimonthly paper serving the inner South east of Canberra. Issue 5/March 2019 includes many interesting articles featuring planning and other local issues, which can be viewed if you click here.
NEED FOR PROTECTION OF OUR STREET TREES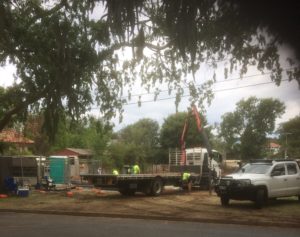 The GNCA has recently written to the Minister for City Services drawing his attention to the noticeable rise in builders and developers failing to fully protect the verges.  The letter, a copy of which can be accessed here, also suggests a number of policies and actions that the Government needs to take to protect verges and in particular, our street trees.
GNCA SUBMISSION RE CAPITOL HOTEL (MANUKA) DA
Members and residents might be interested to read the submission we made re the Capitol Hotel DA in June.  Please click here to access it. The ACT Government has belatedly also released an assessment of the proposed hotel by its National Capital Design Review Panel, which can be accessed here.
EASTLAKER NEWSLETTER
Issue 4/December 2018 can be viewed if you click here.
ONLINE MEMBERSHIP AND RENEWALS ARE NOW AVAILABLE!
As we are using low cost Event software, Ticketebo, please be aware that we were unable to modify some of the 'Event' style (rather than membership) wording.
Please click here to renew or become a new member.  Donations are also welcome.
WASTE-TO-ENERGY
Consultation on the ACT waste-to-energy policy policy has been extended til 14 December. If you wish to have your say on the policy there is a survey you can complete and the opportunity to register your interest in participating in a focus group on the development of the policy. Further information is available at https://www.yoursay.act.gov.au/waste-energy
REVIEW OF CEMETERIES AND CREMATORIA
A review of the Cemeteries and Crematoria Act 2003 is underway to identify regulatory changes that will ensure management of cemeteries and crematoria in the ACT is contemporary, sustainable, flexible, and meets the needs of all Canberrans.  If you wish to have your say on the policy there is a survey you can complete and an Information paper available at https://www.yoursay.act.gov.au/cemeteries-and-crematoria-act
ANNUAL GENERAL MEETING 
This year's AGM will be held on Wednesday 23 October 2019.  At last year's AGM, our guest speaker was Minister Shane Rattenbury MLA, who spoke on the proposed Integrity Commission for the ACT.  To view a copy of his powerpoint presentation, please click here.
TIME TO THINK ABOUT BUSHFIRES  Residents will be only too aware of the recent drought, which together with the forecast El Niño means we face a particularly high bush fire risk over the next few months. While our area is not as close to the bush as many parts of Canberra, a fire on Red Hill could push spot fires in our direction in a high wind. We suggest you take a look at the official advice – here's a link to the Government web site. And a couple of tips from members with recent experience of bush fires down the coast:
– keep your gutters clear and flat roof areas clear of leaves
– do you have bushes or shrubs against the walls of your property? These could draw fire towards your property. It's time to think about pruning them back or removing them if you don't really want them there.
– Make sure your outside taps and hosepipes are in good working order.
– do you store firewood in your back yard? Firewood stacks burn well during bush fires and you might want to avoid ordering more wood until the end of the bush fire season.
– think now about your evacuation plan, including for your pets. And do you have your important documents and photos in a place where you can easily grab them if you need to evacuate? Do you have people with mobility problems who may need special help in an evacuation? Plan for it now!
– and don't forget to make sure your property and contents are insured against fire – a third of properties burned in the recent fires down at the coast were not insured. Now's the time to do this – insurance companies won't cover you when fires are threatening. If you are not sure your insurance has been renewed, check now. And make sure your valuations are up to date!
As in all things, we should hope for the best, but plan for the worst!  http://esa.act.gov.au/bushfireready
SEPTEMBER NEWSLETTER Please click here to access pdf.
BLAXLAND PARK VOLUNTEER GROUP – Working Bee on Sunday 19 August 2018. For further information please click here.
EASY STEPS GUIDE TO REPORTING ILLEGAL PARKING   Please click here to access the submission. 
GNCA SUBMISSION ON THE DRAFT EIS PRESENTED BY CAPITAL RECYCLING SOLUTIONS.  Please click here to access the submission. 
GNCA SUBMISSION ON THE ACT GOVERNMENT'S DRAFT PEAFOWL MANAGEMENT PLAN. Please click here to access the submission.
CALLS FOR ACT GOVERNMENT TO ALLOCATE MONEY TO ESTABLISHED SUBURB REPAIRS.  Please click here to access media release.
APRIL NEWSLETTER    Please click here to access pdf.
APPLICATION LODGED TO BUILD WASTE RECYCLING FACILITY IN IPSWICH STREET FYSHWICK      
The planning and land authority within the Environment, Planning and Sustainable Development Directorate (EPSDD) received a draft Environmental Impact Statement (EIS) relating to the above proposal.
The draft EIS is now available on the EPSDD website (http://www.planning.act.gov.au/topics/design-and-build/assessment_of_dev/environmental_assessment/environmental_impact_statements/current-eis-projects/materials-recovery-facility-fyshwick) and is open for public comment until 5 June 2018.
Any enquiries on the EIS process can be directed to the Impact Team on 62071923 or epdimpact@act.gov.au.
GNCA SUBMISSION RE MANUKA OVAL MEDIA CENTRE
Click here to view DA 201731693 MANUKA OVAL MEDIA CENTRE
GNCA FACEBOOK PAGE

We have recently set up a community Facebook page at https://www.facebook.com/TheGNCA. The page will provide updates about the GNCA, as well as information about the local area and the issues that are affecting all of us.  Please share our page with everyone you know that lives in Griffith and Narrabundah.
GNCA SUBMISSION TO BUILDING BETTER SUBURBS PROGRAM
Click here to view the Building Better Suburbs submission to TCCS 15 Nov 2017
PRIORITIES FOR THE ACT GOVERNMENT'S 2018-2019 BUDGET
In September 2017, the ACT Government invited residents to share their views on priorities for the 2018-2019 Budget.  Rather than proposing new services in a Budget-constrained environment, the GNCA has proposed that existing rules and regulations should be enforced by providing adequate administrative resources.  Non-compliance creates uncertainty and degrades trust in government because of a perceived corruption of administrative processes.  Recognising that increased compliance would require additional resources, the GNCA has suggested a number of potential sources of revenue.
To view the GNCA's submission, click here.
PROPOSED FYSHWICK WASTE INCINERATOR
Capital Recycling Solutions (CRS) is a joint venture between Benedict Industries Pty Ltd and Access Trading Company Pty Ltd (Access Recycling) in partnership with ActewAGL.
It proposes to establish a facility in Ipswich Street, Fyshwick to sort and incinerate waste from the ACT and NSW. The facility will operate 24 hours a day, seven days a week, and will be located less than one km from residences in Symonston and Narrabundah.
Documents that may be of interest are available at the following links:
FINAL Flyer Public Forum 23 August 2017
Information sheet CRS proposal 080817
www.blacktown.nsw.gov.au/News_and_Events/News/2017/March/Opinion_Against_Energy_from_Waste
www.canberratimes.com.au/cqstatic/gxfp8u/CapitalRecyclingSolutions.pdf
PLOT RATIO FACTSHEET
To view this useful document, click here.
GNCA'S SUBMISSIONS TO GOVERNMENT
To access our submission to the National Capital Authority's on the King's and Commonwealth Avenues draft Design Strategy, click here.
To access our submission to the ACT's Select Committee on the establishment of an Independent Integrity Commission, click here.
16 LANDSBOROUGH STREET – THE SAGA CONTINUES  
The height of the garage wall must be reduced and the developer must submit a third Development application.
After representations by neighbours and the GNCA, the government recognised that several elements of the house being built did not comply with the approved plans. It instructed the developer to submit an amended Development Application to cover the non-compliant issues. This was submitted on 2 June 2017 and there were 39 submissions from concerned neighbours and the GNCA.
The two main issues were the bulk and scale of the alfresco and the height of the garage wall adjoining 18 Landsborough Street. Most of the other issues were minor, such as reconfiguring the entry door, extending the awning feature and replacing a window with timber cladding. As the Government's delegate stated:
"The alfresco wall/columns on the north-western side of the dwelling have not been built according to the approved plans. This modification has not been included in the in the amended application. Thus, it is not part of the approval and a separate amended application will need to be lodged for approval." And "The raised parapet garage i.e. increase in garage height will increase the bulk and scale of the development, and will have an unacceptable adverse overshadowing impact on the neighbouring block."
As a result, the developer has reduced the height of the garage wall and we are not aware of him submitting a second amended Application. We believe he may be altering the alfresco to comply with the original application. We await the outcome of the government inspectors, after the required changes have been completed.
The GNCA still considers there were several non-compliant parameters in the original application, which should not have been approved.
(REFER TO RECENT POSTS TAB FOR BACKGROUND)
Save
Save
Save
Save
Save
Save
Save
Save
Save
Save
Save
Save