Griffith's Parks
GNCA supports four local Volunteer Park Groups
Urban parklands provide some of the most valued features in our suburbs.  The GNCA supports our local community and the ACT government to maintain these valued facilities in Griffith.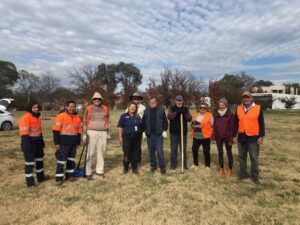 Blaxland Park was gazetted in 2013 to commemorate the crossing of the Blue Mountains by Gregory Blaxland in 1813.  It is situated in Griffith near Baptistcare and the Griffith Shops.  The Volunteers plant selected native and exotic trees, eradicate weeds and generally care for the park.  ACT Government has installed a network of paths to explore the Park. Volunteers are always welcome! Please contact Mac Howell (info@gnca.com.au) for more information.
---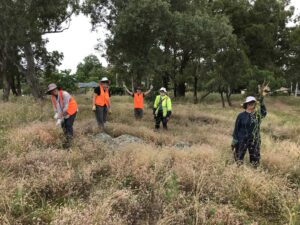 The Griffith Woodland Group aims to protect and improve an urban space off La Perouse Street. This site contains a wealth of remnant native trees, shrubs and grasses.  It needs to be protected so that it can remain a valuable recreation area, habitat and food source for native fauna.  Working Bees normally take place every 2nd Sunday of the month, from 9am to 10:30am – ending in tea and biscuits.  Anyone is welcome to come along! Contact Libby McCutchan at    griffithwoodland@gmail.com for more information.
---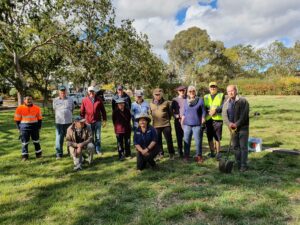 Bass Gardens Park is located in the Blandfordia 5 heritage district and is bounded by Bass Gardens Street and Durville Crescent. It is of particular interest for its heritage status and its native flora groundcover and exotic trees which have been planted in a noticeable design.  Details are available in the Conservation Management Plan which can be found here. A list of flora and fauna is available here.  This list will be updated from time to time. A tree survey plan is available here.
The Friends of Bass Gardens (FoBG) volunteers' main priority is to deal with invasive weeds and increase the ground cover area of native plants.  Progress with weed removal will enable improvements to mowing regimes to increase the area of the Conservation Zone, which has a greater density of native plants.  The aim is to protect and improve native grassy ecosystem plants and the specific design of exotic trees.  FoBG is also supported by the Friends of Grasslands.  Contact Sue Ross (sueross@grapevine.net.au) for more information.
---
The Griffith Park Group has cleared the weeds and discarded bongs from the edges of Griffith Oval No1.  It would like to thank the Community Corrections Work Unit, which has been helping tidy up the area surrounding the main oval by mowing, cutting back overgrowth around the creek beds and removing weeds from the waterways.  The parkland is looking much better now – many thanks to the team and their supervisors for all their hard work.  The Group is now exploring options for planting more trees in Wells Gardens and Captain Cook Park.  Contact Colin Walters (info@gnca.org.au) for more information.